FD6196E-3200 printing machine makes the printing cost as low as 1.2 yuan / m2!
Views:3 Author:Fedar Publish Time: 2019-08-16 Origin:Sublimation Printer
As is known for us, the more the number of nozzles of the digital printing machine are, the faster the printing speed is. In the fast-paced moment, time is enqualent to the benefit, and the first thing is to increase the speed. Fedar FD6196E-3200 digital printing machine is equipped with six EPS3200 nozzles, which is ahead of most digital printing machines in the current market.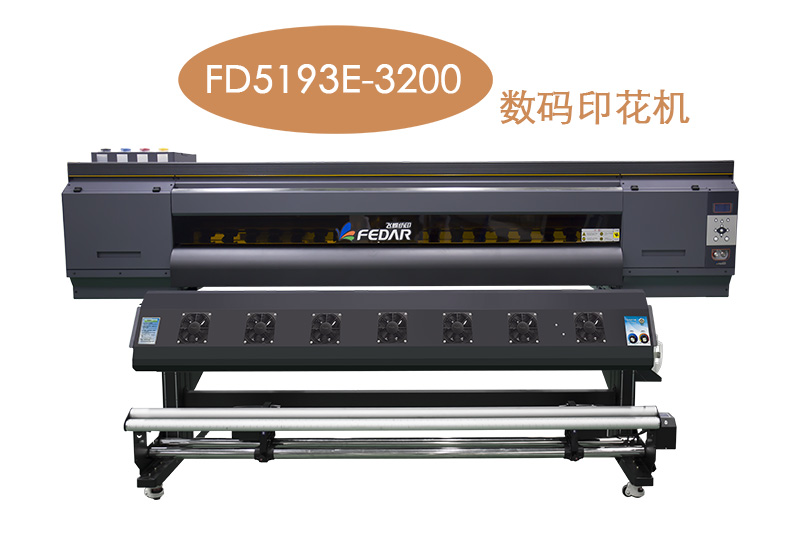 With the improvement of people's material life, the demand and requirements of the printing industry are getting higher and higher, and more and more printing merchants are facing the situation of large orders or urgent orders. So Fedar FD6196E-3200 digital printing machine came into being, and led the trend of the times. 6 EPS3200 nozzles with a top speed of 200m2/h, new TFP film piezoelectric technology, 2.5PL variable point with precise ink drop lacated for ultra-high speed ultra-high definition printing experience. It has 1000 meters large receiving and discharging system, intelligent lack of ink alarm, intelligent drying system, etc., printing operation is more intelligent and intelligent. High speed, high precision and high stability make FD6196E-3200 digital printing machine achieved the high Value for money , providing a stable and mature application solution for your digital printing and intelligent printing. The printing cost is greatly reduced and the cost is as low as 1.2 yuan/m2.